By Kayleigh R Bradshaw.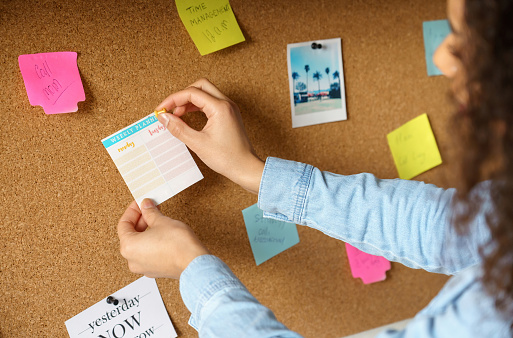 You remember my article 'Dreams come true'? Treat this as a follow on from that…
What am I dreaming about today? I'm not, you are!
I hope after reading the dreams come true article, you had a little motivational push and a good think about what dreams you do have.
As a writer I love to see my ideas visually, even my dreams!
So today I want to tell you about why I have a dream board in my house and why it works for me…
What is a dream board? A dream board is anything you want, it's your dreams visually set out up a wall, ideally somewhere you're going to see it daily.
For example, my dream board is a cork board on my bedroom wall above my dressing table where I get ready every morning.
On my cork board I have all my dreams printed out and pinned up, I decided to print out pictures of things I wanted and make a collage of them to look at every morning…
I have pictures of things like beaches – at the moment mainly Thailand as I really want to go travelling there. From pictures of Thailand to pictures of a house with a nice garden that has a driveway and a pretty kitchen island. I also have a picture of a cute little dog who I want to purchase one day to keep my crazy little cat company…
I have pictures of a wedding ring because I want to marry my best friend. I have photos of the places, activities, and memories that I want for me and him.
On the flip side of the materialistic things I want, I also have all my goals (also my dreams) on there.
For example, I have a picture of a busy barbershop that's always fully booked with clients, I have pictures I made of all the books I plan to write and successfully publish, I even printed myself out pretend letters from publishers offering me a contract – this is a little manifestation too – something I will write about in the future! I have my website The Barber Diaries, pinned across my dream board with 1000's of subscribers, followers and readers… because anything is possible when you put your mind to it!
If some of you are thinking it's a little silly printing out fake letters, your wrong! I thought this at one time, back when I felt like shit with uncontrollable anxiety, no motivation, no goals, and no hope!
Believe me that's a real shitty place to be! You can read about my anxiety struggles on my mental health week blog – story one, that's mine! I told readers how I first found out I had anxiety and how it felt, the things I did wrong, but I never went into details of how exactly I started to overcome it hence my wellness blog, which is full of wellness advice and self-help tips.
The dream board been one of them! Not only is it 'Kayleigh proven' It's also been scientifically proven that seeing a wall full of you dreams daily helps to give you the motivation you need to fulfil them!
The idea is you have everything you want in one place, somewhere you will look at everyday to remind you that you have purpose, and you have something to work towards!
As anything, you can dream but you also have to DO! You can't just sit on your arse all day everyday staring at this board hoping it's all going to come to you but what you can do is look at them dreams every day, as many times as you can! Look at them, imagine them, feel them…
Imagine all of them dreams, imagine the house, the money, the wedding, the job, the family, whatever it is you want! Imagine it's yours, how does it feel? How does it feel having reached everything you wanted?
Feels good right?
SO GO GET THEM!!!!
PLAN!
How will you achieve them? It won't happen overnight, so start small and build your way up – remember Rome wasn't built in a day!
One of the best ways I found to realistically achieve my goals and dreams were having sub-goals, sub goals are small steps to get you where you want to be. For example…


Besides from been a barber I wanted to be a writer, this is my real passion, a career in writing wouldn't be work at all for me because I love it, I never get tired of it but it's a bloody hard career to get into and make some money from, so I started small…
My book for example – The date that changed everything is written, it's not published, YET! But it's certainly one of the things at the top of my dream board, with lots of sub goals like; find an editor, look for an agent, send submissions, whilst waiting to hear back from all of them – set up a linked in and twitter account, get my name out there, gain experience, start a blog, share my work with others, get my book proofread and have friends and family read it for some feedback.
Not only does this keep me busy and motivated but it's so satisfying because every time I reach one mini goal, I'm proud of myself and I'm even closer to the big dream and that gives me so much excitement, joy, as well as so much more motivation to keep going!
Dream boards can come in all shapes and sizes, be as formal or creative as you like, whether you write it, draw it, paint it, or print it…
As long as you see them dreams in front of you every day, you remind yourself what drives you, what motivates you and most importantly you remember the reason you're working your butt off every day!
"The best preparation for tomorrow is doing your best today" – H. Jackson Brown. Jr.